Verhoog de productiviteit van uw laboratorium door optimalisatie.
LabSPX biedt een nieuwe unieke dienst speciaal voor laboratoria binnen de Life Science en chemische markt.
Optimaliseer uw laboratorium
Wij helpen laboratoria in de Benelux efficiënter te werken door processen te optimaliseren.
Komt u mensen op het laboratorium tekort? Wilt u meer grip op de 'uptime' van apparatuur of wilt u de analysetijd verkorten? Wij identificeren samen met u de 'bottlenecks' binnen uw proces en kiezen een succesvolle methode om verbetering toe te passen waarbij we het doel van optimalisatie nooit uit het oog verliezen. En met wie wilt u dit liever doen dan een partner die al meer dan 100 jaar ervaring heeft in de laboratoriumwereld?
Equipment management is surrounded by processes. Usually these processes have been in place for several years and grow steadily due to increasing quality demands and growing businesses.
Beside our equipment management services, we can dive deeper into your laboratory processes with our Consultancy services. LabSPX Consultancy will focus on the high frequency transactions. Processes in your laboratory will be shortened and automatically increase the overall quality. We will flag any type of 'waste' and continuous improve the processes around the Equipment management. Our view is from start to finish, so the impact of our services spread further than only at the initial laboratory equipment stage. We use proven methods to optimize your laboratory and increase overall efficiency
Onze ervaring met laboratoria heeft ons geleerd dat geen enkel laboratorium hetzelfde is. Deze ervaring heeft ons ook geleerd dat ondersteunende lab activiteiten vaak niet in aanmerking komen om geoptimaliseerd te worden. Zonde, want hier laat men een mooie kans liggen om het lab nog beter te laten functioneren. Onze dienst helpt u om de ondersteunende lab activiteiten te optimaliseren. Hoe? Dat leest u hieronder.
Onze On-site service in één oogomslag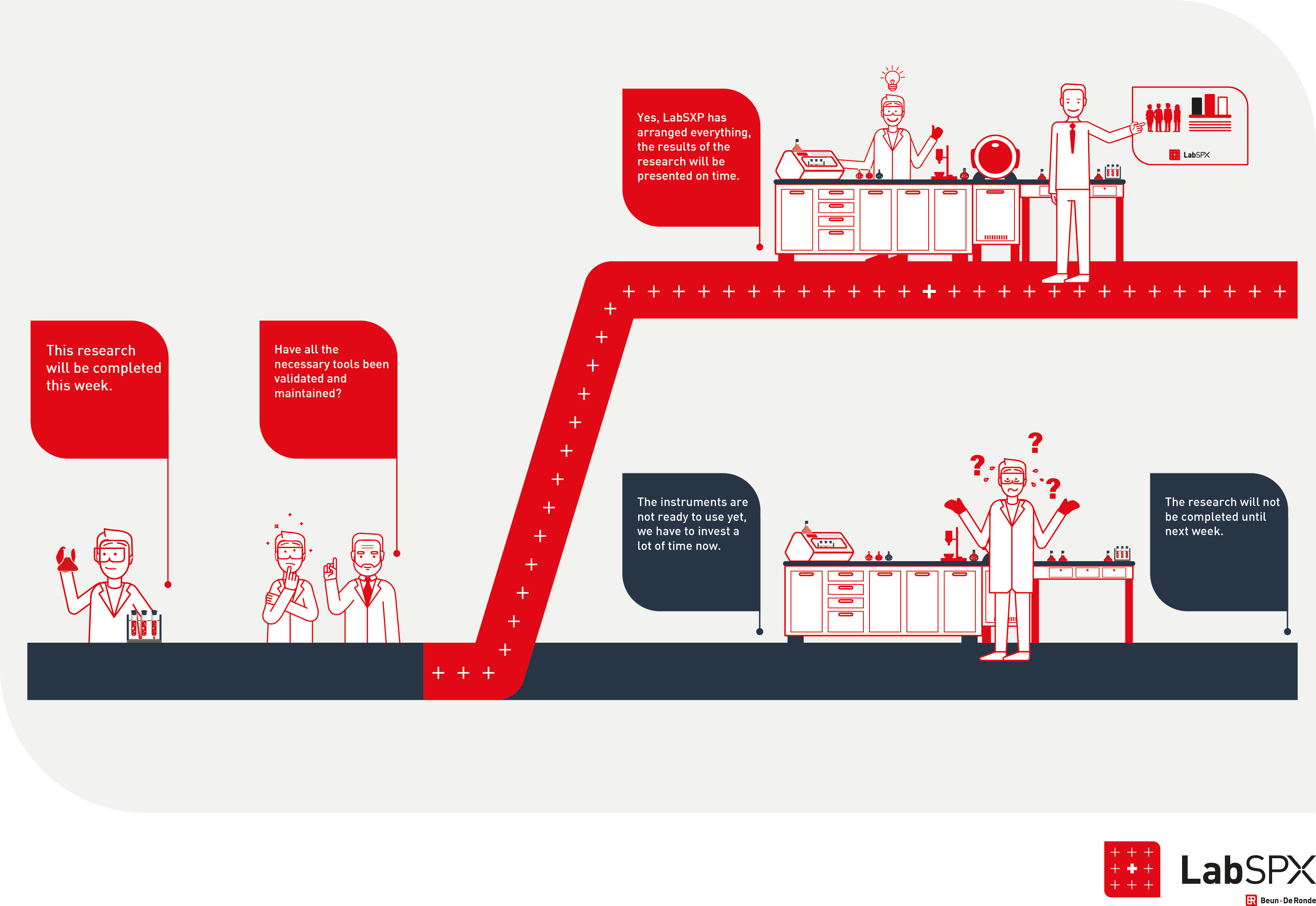 100 year experience in service
Reclaim your equipment as a tool, not a task

Consultancy
Expert in laboratoria optimalisatie
Met onze consultancy services gaan wij samen met u, proactief op zoek naar hoe wij uw laboratorium nog beter kunnen maken.

LabSPX On-site services
Uitvoering van alle ondersteunende lab activiteiten, zodat uw personeel zich kan concentreren op wat echt een meerwaarde oplevert.

Contractenbeheer
100% beheer van al uw lopende onderhoudscontracten.
Wij centraliseren alle onderhoudscontracten en zorgen ervoor dat alle contracten up-to-date zijn, alle contracten gekoppeld zijn aan een instrumentnummer/serienummer en zorgen voor het tijdig inplannen van de werkzaamheden bij de leverancier. Ook het in orde maken van de certificaten en formulieren nemen wij voor onze rekening.
LabSPX: A bright glance, with a critical view
LabSPX delivers tailor made equipment management services within the BeNeLux.
We take care of your complete equipment management with passion and responsibility. Our team of engineers will enable your laboratory staff to focus on their core business.
We help you to create a pleasant work environment by absorb all necessary but non added-value tasks.
Having trouble finding the right personnel? Are you looking for ways to improve the work environment within your laboratory? And would you like to make your laboratory more efficient in both quality and productivity?
Are you looking for ways to be more attractive as an employer? Every laboratory is unique in its kind. Are you looking for a way to have 100% confidence and grip on your equipment management? From Validation to stock?
LabSPX service is suitable for your laboratory
Clinical / Medical laboratory
Contract Research Organisation
You need more information? Ask your question here, or call us +31 (0) 294 280 470